This is blog #3 written on-site at our Global SOF Symposium in Brussels, Belgium! Read all of the event blogs here.
—-
While this is already blog number 3 for this week, yesterday actually marked the first full day of Symposium events. And we mean a FULL day. Here were the highlights (and even some low-lights… literally).
The Last Post
The opening remarks of the first session came from not one, but FOUR speakers. That's how welcome we want you to feel.
Dana "Bobby" Boucher, VP of our Partner, Victor42, served as the day's Master of Ceremonies, and he did a great job covering the long list of Sponsors along with some housekeeping info and reminders. He was also joined by GSF President Stu Bradin, who talked about his years living in Belgium and why this event is close to his heart.

Stu also said a line that we can't stress enough: "The support that we've gotten from the Belgium Special Operations community is unprecedented." It really has been amazing.
Major General Johan Peeters, the Assistant Chief of Staff for Operations and Training for Belgium, also provided some welcome remarks. He said that the interactions this week between the "SOF World" in Belgium and Industry has been remarkable, and that he is "humbled" by their first steps in this relationship.
The fourth welcoming speaker was the GSF's Director of Government Relations, Rick "Ranger Rick" Lamb. Rick took the stage as he always does, dressed in an authentic WWII uniform. He said it's because he's "weird," but it's really because of his honor and respect for history… and because he looks cool in them.
Rick spoke about the current world, and lessons that should be learned from history. But his overarching theme is that working together as a brotherhood that crosses borders is the only way we can survive. 
He ended by asking everyone to remember a lost comrade or loved one as we listened to the bugle call, The Last Post. Powerful stuff!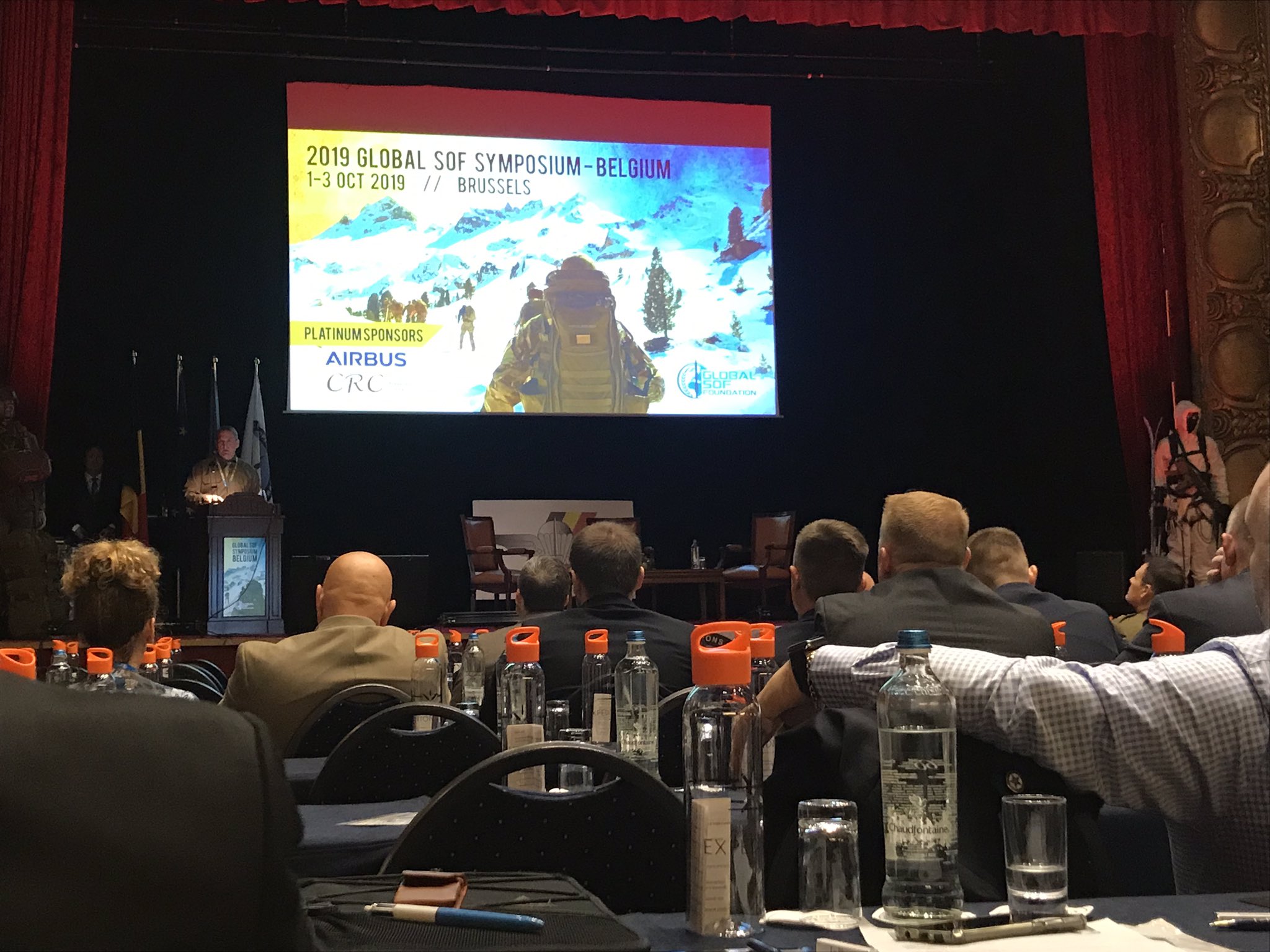 —
Warfare is Changing… let's face it together!
The next panel focused on the changing landscape of warfare, and was moderated by Dr. Gustav Lindstrom, the Director for the EU Institute for Security Studies. His two panelists were Dr. Antonio Missiroli of NATO and Dr. Professor Rob de Wijk of The Hague Centre for Strategic Studies. 
The gentlemen had a great discussion about the different threats of the future, which was unfortunately ended a little abruptly by a threat of the past… a power outage! We managed to trip a breaker in the A/V space upstairs, resulting in some lost lighting, rogue music, and ultimately, some good-humoured laughter as the panel came to a close.
Luckily it had been time for the networking break anyways, so the audience moved out to the Exhibit Area for some coffee– generously sponsored by Global SOF Partner, Cubic Mission Solutions!
Plus, networking… all the networking! We spoke to our Partners at Spatial Networks, one of whom had not previously attended our European event.
"This is way more engagement than I expected," he said, noting that he was really happy with all of the interactions, especially representatives of European Nations.
Speaking of representatives from European Nations, the next panel had some heavy hitters from Belgium, Denmark, and The Netherlands, and was moderated by Mr. David Hobbs, the Secretary General for the NATO Parliamentary Assembly.
It was a good discussion, focused on the trilateral special operations component command that the three Nations are standing up, and how it allows three small countries to accomplish things that they could never do on their own. 
It is not without its challenges, however. As General Marc Compernol, the Chief of Defence for Belgium, said: "We (i.e., the military) are thinking about 2035. But political leaders are thinking about the next election. We must be able to explain the issues and show what's in it for them." 
—
The SOF Slam Series
Our events are educational, but they are first and foremost about NETWORKING. Which is why we have good long lunch breaks in the Exhibit Area, giving people ample opportunities to meet, discuss partnerships, and learn about new technologies.

So the lunch break featured some local foods, from pate and codfish (for the more adventurous visitors) to chicken and bread for those who don't quite have their Belgian palate ready.
Plus, plenty of time to talk! In just the few minutes she was able to attend lunch, our GSF Director of Marketing, Chelsea Hamashin, reconnected with a former senior leader from USSOCOM, reminisced with an Australian attendee from the Madrid Symposium, and checked in with some Corporate Partner booths to make sure they were crushing it. #theywere
Back in the Theater came the next session… a series of SOF Slams. For the newcomers, SOF Slams are the GSF's version of TED Talks… shorter presentations on SOF-relevant topics.
We had three in a row today! First up was a two-fer… Rob Howe of our Partner System High Corporation and representative of AC Global Risk talked about the human element of SOF, and what we are willing to risk to win. The "erosion of trust" was a strong theme, about how loss of life can dramatically decrease trust, as was the concept of a "Proactive Protection" strategy.
The second Slammer was Sharon Burke from the New America think tank in the US. Sharon talked about two big topics: China and Climate Change, and specifically how the competition for resources will increase as the world rapidly changes. 
"Nothing puts angry people in the street faster than an escalating food crisis or not having water," she said, highlighting why this topic is something SOF across the world should care about. Sharon's presentation was a big topic of discussion throughout the day, with GSF COO Meaghan Keeler-Pettigrew saying, "Everyone keeps coming up to me and telling me how great it was!"
PS: Sharon has also been on our SOFspot podcast, so if you haven't listened to our Podcast with her about the Arctic, put it on your to do list!
SOF Slam #3 came from Dr. Ben Van Roo, Chief Strategy Officer and Head of National Security for Primer AI (a brand new GSF Corporate Partner)! Ben talked about another hot topic… Artificial Intelligence and dealing with lots and lots of data. One way to use it? Share (what you can) with your Partner Nations. 
—
SOF is a Real Game Changer
The final speaker of the day was General Claudio Graziano of Italy. He currently serves as the Chairman for the European Union Military Committee, and has previously served as the Italian Chief of Defence. He spoke on a variety of subjects, from approaches for hybrid warfare to SOF's "game-changer" role in both direct action and military assistance.

It was great to hear support for the work of SOF from such an experienced and ranking leader!

Stu took the stage to thank Bobby Boucher for his service as the Master of Ceremonies for the day (it's no easy task) and all of the attendees. He closed with the reminder that a "community of trust is built on relationships with your peers and your friends."

So we went back to the Exhibit Hall to continue building those relationships with an evening reception! The theme this time was… Belgian beer, which was generously sponsored by Skydweller Aero. With plenty of tasty local beers, wine, and some snacks, the reception and conversations went on well past closing!

Thanks to everyone for attending, and we hope you're enjoying the final events today!
#GSSBelgium